START YOUR OWN BUSINESS FLIPPING PALLETS FOR PROFIT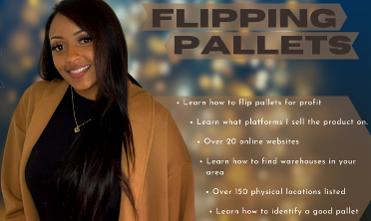 The Reselling Industry Is A Billion Dollar Industry And It's Your Time To Get A Piece Of The Pie.
Over the past 26 months, I've been able to help over 60,000 people learn how to flip pallets from my course where I can offer tips, tricks, and strategies with other business owners and pallet flippers to offer more guidance.
My Pallet flipping journey started in 2019. I was looking for an additional source of income and my brother bought computers from a liquidation warehouse and I helped flipped them.
In 2020, my cousin took me to a warehouse in Southern California and I flipped my first pallet on my own. I have been flipping products ever since.
As the world becomes more expensive it is necessary to have multiple sources of income that can ultimately change the trajectory of your life.
In this course, I'm showing you how to find goods and sell them for a profit.
💰 I provide 20 different websites & 100 Physical Locations. I'm going to demonstrate how you buy pallets full of items from Amazon, Macy's Target, Walmart or home-depot etc & resale them on different marketplaces 💵
Flipping pallets is a great side hustle you can double,or triple your money on your first flip depending on what items you get. 💡
If you are ready to learn how to flip pallets and start your side hustle today let's get started
ORDER THIS COURSE AND BEGIN MAKING MONEY FLIPPING PALLENTS